Displaying present location in the site.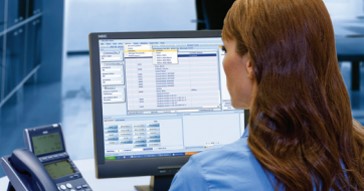 UC Attendant is an advanced attendant console for NEC's SV9500 and SV9300 communications platforms that provides operators instant access to vital information to improve responsiveness, accuracy and the caller experience.
NEC's UC Attendant (UNIVERGE UA5200), part of the UC for Enterprise suite of applications, was designed specifically to optimize business performance and boost a business's standard of service. This solution provides cutting edge technology with the latest in advanced call-processing capabilities and productivity enhancements. Based upon each user's role, UC Attendant gives you tools to elevate staff productivity, without increasing costs.

> Optimal call management through a customizable, intuitive user interface
> Presence-enabled directory that integrates with corporate directory
> Skills-based directory search to quickly find the person most suitable to assist the caller A cost-effective way to increase attendant productivity
> On screen call control with flexible routing
> Access to presence-enabled directory with click to call, e-mail, short message service and instant message
> Optional threat recording, Emergency alerts, on-call schedules, message taking and procedure management