Displaying present location in the site.
Enabling IP communication and access to information in real time
| | |
| --- | --- |
| | |
| Basic Panel | Video Conference Panel |
NEC's UNIVERGE SP350 Softphone embeds voice communication into business processes to bring employees the instant communication and information they require. This versatile communications tool offers an extensive array of high-quality video, audio, voice and text features.
Full-Featured, Multimedia IP Softphone
The SP350 Softphone is a versatile, multimedia IP phone that is installed on a personal computer (PC) or laptop and delivers high quality voice, including wideband codec, via a USB-connected headset/handset. Designed to meet the needs of any employee, it can be used as a primary desktop telephone, a supplemental desktop telephone or a remote/telecommuting device.
Primary Telephony Device eliminates the need for a standard desktop phone. The SP350 is a space-saving device for organizations that use integrated voice and data applications on a regular basis or for individuals who enjoy the efficiency of communicating via voice and data from their PC or laptop.
Remote/Mobile Users provides the full functionality and features of a regular desktop phone, plus advanced multimedia applications, through a simple Virtual Private Network (VPN) Internet connection. Mobile users, on the go, can handle calls as if they were in the office and interact via voice, audio, video or text just by logging onto their PC. Share real-time information and ideas from a PC or laptop with the versatile SP350 Softphone. When linked together across an NEC IP network, SP350 users can collaborate and interact with each other in an exciting variety of ways.
Audio and video conferencing allows for easy set-up and participation in conference calls.
Application sharing: Permits users to share up to 16 files at one time through peer to peer and conference call environments, and are synchronized between all participants Provides the capability for all participants to write in text or insert graphics on a shared document. Allows participants to save inserted text/graphics in Microsoft® Word or PowerPoint® documents.
Markup pen lets users redline a portion of a shared document.
Whiteboard allows users to review, create and update graphic designs in real-time.
Instant Messaging/Chat enable users to correspond in real-time in either a peer to peer or broadcast arrangement while engaged during a call or not.
File Transfer provides an easy method to send one or more files while in a call by simply selecting the file and dropping it into a person's participation file.
Call Log enables the storage of information about outgoing/incoming calls, missed calls as well as recorded call files
Smart mobile extension for your smartphone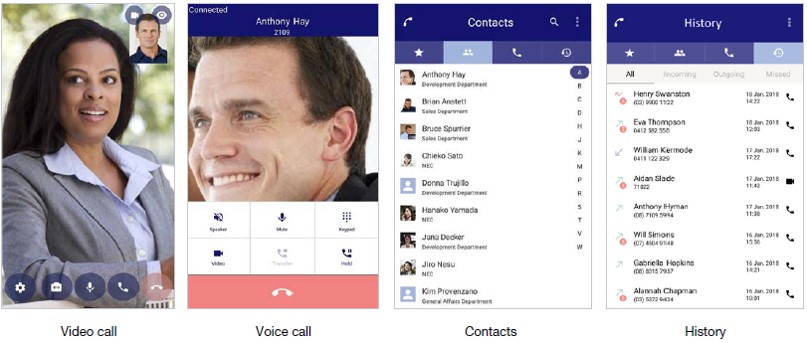 NEC's UNIVERGE ST500 Mobile Client brings greater dexterity and heightened control to call management by making an Android™ or Apple® smartphone an employee's point of contact.
Take the power of the ST500 at work, at home and anywhere
Employees shouldn't be bound to a desk, they should be mobile - working where work takes them. NEC's UNIVERGE ST500 softphones for Android and Apple smartphones allow you to make and receive voice and video calls from virtually anywhere, as if you were at your desk. Simply connect to Wi-Fi or use your mobile data (3G / 4G / 5G) to handle your calls.
One number and voicemail for uncomplicated connectivity and accessibility
Worker caller ID over cellphone number to ensure constant and recognizable identification
Simultaneous ringing of desk and smartphone client for maximum coverage
Improved collaboration with smartphone video conferencing
Greater transparency with one call history
Android and Apple compatibility
Integrated into your smartphone contacts
Hands-free mode
Bluetooth headset support

Localized dial plan

Make / Answer calls / Call waiting
Hold / Transfer / Conference / Call park / Call pickup
Call forward (All, Busy, No Answer) / Call hunt groups