VIDEO WALLS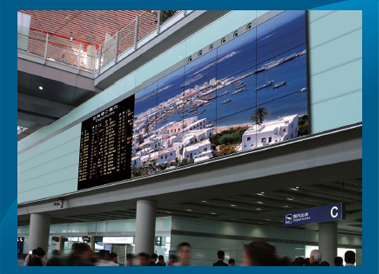 Ultra-Thin Virtually Invisible Bezels
With the X Series there is virtually no interruption to content when viewed at a distance,

Ambient Light Sensor
With this feature, the brightness level can be defined by the user, to adjust automatically, ensuring perfect brightness at all times avoiding uncomfortable brightness levels and reducing unnecessary power consumption.
X461UN Ultra Thin Video Walls
Super slim paired bezel width of 6.7mm with 7.3 mm between contents
46 inch Public Display with professional LCD panel
Ambient light sensor for optimised brightness
levels and minimised power consumption High brightness up to 700 cd/m²
Factory and user calibration for perfect brightness and colour uniformity
Option slot for Built-in PC, DVI Daisy chain and other boards
---
NEC Video Walls can be ideally created using one of the following P Series Professional Reference Displays, P401, P461 or P521 or the X461UN Ultra Thin Bezel Display. P SERIES X461UN 3
NEC Video Wall Advantages
Hardware Calibration
Both the P-Series and X-Series are perfect to create matched video walls, reproducing media and images in the colours that were intended. Advertising Agencies can draw on the benefits of super-sized content confident of colour accuracy.
Group ID
The group ID feature allows the user to control clusters of displays in a video wall with one RS232 command. This video wall feature allows for convenient switching, for example, changing inputs during a stage presentation which would otherwise require expensive additional equipment.
Quick Input Change
Avoids long switching times and black screens when switching between inputs. This can be convenient for video wall installations where long interruptions are not acceptable.
Copy Settings Function
This feature is a real cost saver. The user can copy all settings from one display to another with an RS232 cable before mounting the screen, saving him having to go from display to display to adjust the settings to the desired level. No PC is needed for this operation.
SIGNAGE SOFTWARE
The Ideal Small Business Digital Signage Solution
Simple, Affordable, Powerful and Supported by NEC
Installing high quality Digital Signage has never been this simple. Buy any NEC MultiSync V Series Large Format Display and get all you need to run stunning dynamic content out of the box, with this fully inclusive bundle and all backed by an NEC Manufacturer Warranty and Support line.

Getting started is simple, playlists can be set up with a few mouse clicks. It's ideal for inexperienced users and all common playback formats are supported, together with an on-screen ticker feature and access to free or bespoke templates via an online connection.
Affordable and Flexible
This package offers a great price performance ratio with no more to pay than the cost of the standard LCD.

Choose from our 32", 42" and 46" models for the ideal format to make the most of your installation. Up to three displays can be fed with content from a single Editor via a LAN connection.
Signage Software Benefits
Included with V Series at no extra cost Powerful, but Simple to Set Up and Use Software Edit Content and Distribute at Scheduled Times Combined with NEC Value Large Format Displays creates an Affordable and Flexible Signage Solution
For more information please contact