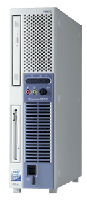 NEC Express5800/51Lf
Features Intel ® Core™ 2 Duo Processor for energy-efficient performance
Delivers high-speed graphics performance at an affordable price
Housed in an 88mm slim chassis
---
Product Highlights
The NEC Express5800/51Lf is a slim workstation featuring Intel® CoreTM 2 Duo, Pentium®, or Celeron® processor. Based on Enhanced Intel® CoreTM microarchitecture, the Core 2 Duo processor E7400 is designed to boost processing power and energy efficiency significantly over previous single- and dual-core processors.

The 88mm slim chassis accommodates up to two Serial ATA (3Gb/s) hard disk drives, with a maximum capacity of 500GB (250GB x2). Installable disk capacities are 160GB and 250GB. RAID 0 and 1 is supported as standard.

Advanced visualization is achieved by an optionally available NVIDIA Quadro NVS 290 graphics card supporting PCI EXPRESSTM x16 interface.

The 51Lf offers a choice of two optical drives: CD-RW/DVDROM combo or DVD Super MULTI drive. The Super MULTI drive supports DVD-RAM and enables reads and writes of data files for large-volume backup and storage just by drag and drop without any write software.

Along with Microsoft® Windows® XP Professional, the 51Lf supports Microsoft® Windows Vista® Business that provides expanded memory space so as to enable high-speed processing of and access to a large amount of data.

Housed in an easy-to-handle slim chassis with a tool-free removable slide cover, the 51Lf helps reduce the time for addition of hard drives and on-site maintenance.

NEC ESMPRO, bundled for easy system management, monitors and controls system operation from a remote console, and assists the system administrator in troubleshooting.

For simple system installation, NEC EXPRESSBUILDER is attached as an installation support tool.
NEC Express5800/51Le Hardware Specification
Processors
Intel® CoreTM 2 Duo processor E7400
(2.80GHz/1066MHz FSB/3MB L2 cache)
Intel® Pentium® processor E2160
(1.80GHz/800MHz FSB/1MB L2 cache)
Intel® Celeron® processor 440
(2GHz/800MHz FSB/512KB L2 cache)
Chipset
Intel® Q35 Express
Memory
DDR2-800 SDRAM (PC2-6400)
unbuffered

Installable
Memory
512MB / 1GB / 2GB
Max
4GB (2GB x2)
Internal HDD
Max
500GB (250GB x2)
I/O
Serial ATA (3Gb/s)
RAID
Integrated
(LSI Embedded MegaRAID)
FDD
3.5" x1, 2-mode (720KB/1.44MB)
ODD
CD-RW/DVD-ROM combo
DVD Super MULTI
Network
10/100/1000BASE-T x1
Device Bays [Free]
5.25" x1[0], 3.5" x1[0]
Disk Drive Bays[Free]
2[2]
Expansion Slots
PCI Express (x16) : 1
PCI Express (x1) : 1
32bit/33MHz (5V) : 1
Graphics
Standard: Intel® GMA 3100 (287MB)
Option: NVIDIA Quadro NVS 290 (128MB)
Power Supply
AC100V-240V±10%, 50/60Hz±1Hz
Power Consumption
257VA/190W (Max.)
External Interface
Front
USB2.0 x2
Phone x1, MIC x1
Rear
Video x1, Serial x1, Parallel x1
Keyboard x1, Mouse x1
USB2.0 x4, LAN x1
Line In x1, Line Out x1
Chassis
Slim type
Weight
Max. 9Kg
Dimension
88W x 327D x 345H mm
(not including stabilizer)
Support OS
Microsoft® Windows Vista ™ Business
Micorsoft® Windows®XP Professional SP2
Micorsoft® Windows®XP Professional x64
Edition SP2