Displaying present location in the site.
Security is vital when critical information about your business, partners and customers is at stake. To help you minimize business risk, we make security a key component of all our eBusiness solutions.

With our security services, we enable you to provide the appropriate people with the appropriate information access while avoiding security breaches.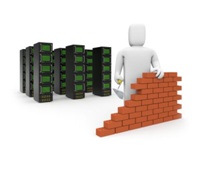 We first work with you to understand your current security policies, your business processes, and your network infrastructure. We can then assess your current security level and help you decide where you want it to be. We help you develop a comprehensive security strategy for anticipating the operatonal, legal and information security risks that accompany eBusiness activities, and we enable

Our security architecture design service helps you design and implement solutions such as firewalls, digital certificates, and VPNs. finally, we'll help you automate security administration for cost control and improved productivity
Key security services we provide include:
Security assessment
Business risk evaluation
Security policy development
Security infrastructure design and implementation
Security optimization and upgrade
Remote monitoring and management
Firewalls
Virtual Private Networks (VPN)
Intrusion Detection System
Web-based encrypted (SSL) access
Secure token authorization
Centralized security directory implementation
Security scanning tools