Displaying present location in the site.

NEC's Smart Hospitality Solutions provide hoteliers with an IT platform for delivering authentic, optimized services that allow each guest to enjoy a relaxed and pleasant hotel stay, basking in the warmth of hospitality.

From operations critical to the running of the hotel to the provision of new guest services, NEC's Smart Hospitality Solutions cover all the bases to reduce IT operation loads and allow hotel staff to concentrate on providing guests with better service.
These solutions promote business growth by enhancing operational efficiency, improving service provision, and speeding up management, while at the same time reducing costs.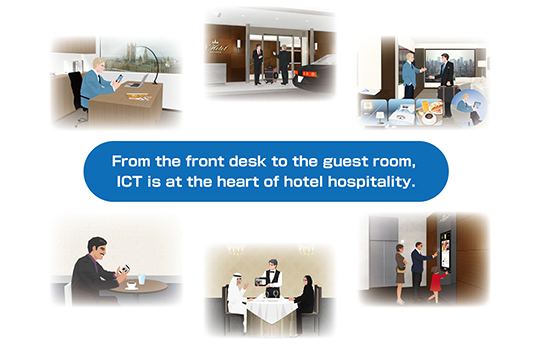 Benefits of NEC's Hospitality Solutions
NEC provides both the property management system (PMS) and telephony system (PABX: private automatic branch exchange) that are critical to hotel operations. NEC's PMS and PABX leverage our more than 30 years of experience in providing IT solutions for the hotel industry, and enjoy a well-deserved reputation throughout the world.

NEC has an excellent track record of delivering advanced ICT solutions and services to customers in many different industries.

Using this experience, NEC has created high value-added solutions that will allow hoteliers to provide higher quality services and enhance operational efficiency through cutting-edge ICT.

NEC's hospitality solutions are totally integrated and can be customized for on-premises, SaaS, or one-box implementation.
From proposal to installation and maintenance, NEC provides one-stop solutions to your hotel operation needs.
NEC's Hospitality Solutions