Displaying present location in the site.
Property Management System NEHOPS
Accelerate Decision-Making and Manage Guests in a New Way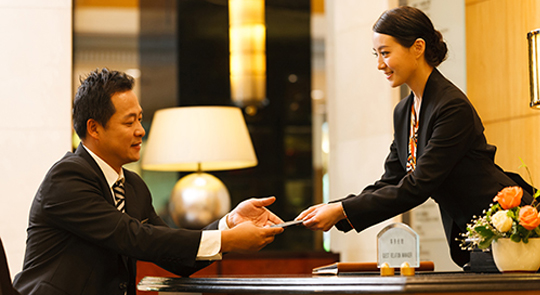 NEHOPS is an industry-beating solution that reduces hotel operation costs, optimizes revenue, and enhances management.

NEHOPS is composed of three subsystems, PMS, Banquet, and CRM. These systems implement thorough data coordination.
Guest stay histories and banquet usage information can be browsed on a single screen, providing quick access to important information such as previous stay details, pillow preferences, and required items. This information can be used to improve services for repeat guests and boost customer loyalty.

The NEHOPS subsystems can also interface with reservation channels such as a global distribution system (GDS) and central reservation system (CRS), as well as flexibly coordinate with the accounting system. This allows information to be collected and shared quickly, enabling, for example, a previous day's sales report to be distributed the next morning.

From big chain hotels to specialized accommodations, NEHOPS can implement the business strategies of each hotel.
The PMS optimizes revenue and enhances management by providing functionality to deliver accommodation services, improve the efficiency of front-desk operations and reservation services, and analyze hotel operations.
The Banquet system supports the smooth running of MICE, weddings, and company banquets with a range of flexible management, arrangement, payment, and analysis functions.
CRM enables the integrated management of information about guests such as their stay histories and satisfaction levels, allowing hotel to tailor services to meet guests' needs, thereby improving customer loyalty.
Single-Channel Maintenance Service
NEC's maintenance service allows operation inquiries and requests for troubleshooting to be received through a one-stop service desk, reducing the workload of hotel IT staff. Inquiries about hardware and software such as the server OS can also be handled through the same channel.
NEC has been providing IT solutions for the hotel industry in Japan for more than 40 years. We know the industry inside and out. NEC's system development and installation expertise is widely acclaimed, as evidenced by the more than 400 hotels across the globe currently using NEHOPS.