Displaying present location in the site.
CCTV Image Processing for traffic management
NEC's Recommendation to utilize video surveillance system with image processing traffic congestion alleviation but also safety & security.
Solution to social issues by Image Processing Technology Our Proposal
• 1.Road (Traffic Report, Detection of Illegal crossing, No helmet, Triple ride, illegal parking)
• 2.Intersection (Red Light Violation Detection)
• 3.Footpath (Detection of motorcycle and stall on footpath)
• 4.Security&Safety (Unusual Incident Detection, Suspicious Behavior Detection)

NEC Image Processing technologies can detect automatically, accurately and efficiently to contribute "Congestion Alleviation" and improve "Safety & Security."
Various and useful information can be secured through a CCTV Camera by Image Processing automatically , accurately and efficiently.
Detection for Traffic Management
We will prepare a demonstration environment of Large Display system and show the result of Image Processing and Analysis.
Changes in crowd behavior can be detected without identifying any individuals.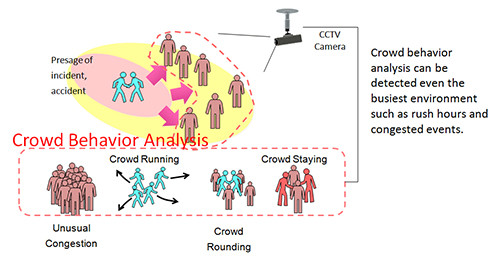 For more information please contact
Mr. Rhonnaphoom Sisunsanee
Telephone : +66 (0) 259-1192 ext. 2714
E-mail : rhonnaphooms@nec.co.th