Logical Security
SystemsGuard provides high-end solution for logon and network protection to Windows-based servers and network clients. While one-touch logon and screen saver protection are standard elements of such biometric applications, other features, like the extra layer added to native logon mechanism, extended network access administration, and of course live finger detection are unique to SystemsGuard.
Systems Guard
Extending Windows logon security with a biometric layer
Standard computer security products feature standard OS-integration, which means that a method able to bypass the native Windows logon will also bypass the biometric protection. Instead of simply integrating with the native logon mechanism of supported Windows operating systems*, SystemsGuard replaces central components of the mechanism. This solution offers a higher degree of flexibility in administration of network access rights, better protection of network resources, and a higher overall logon security.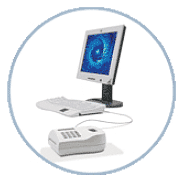 Sophisticated protection of networked resources
SystemsGuard allows uniquely flexible administration of network access rights, as it is able to make restrictions not possible in a Windows network with traditional biometric protection. Some of SystemsGuard's special features are the ability to grant selective access rights for users of the same network domain, protecting a server or client computer from being accessed by computers without SystemsGuard logon authentication, and different logical identities to be assigned to each finger.
Database sharing with AccessGuard
SystemsGuard and AccessGuard can be configured to share the same user database. In this case employees will have to be enrolled only once, and they become users of a unified, enterprise-wide security environment including both logical and physical biometric access control.
For more information please contact
Niwat Kulsri Address : NEC Corporation (Thailand) Ltd. 159/37 23rd Floor and 159/38 24th Floor, Serm-mit Tower, Sukhumvit 21 Road (Asoke), Klongtoey Nua, Wattana, Bangkok 10110, Thailand
Telephone : +66 (0) 2-259-1192 ext. 3440
E-Mail : niwatk@nec.co.th