Displaying present location in the site.
Schedule Optimization System
Excess Wait Time (EWT) is an index to evaluate bus operation reliability from passenger perspective. It measures average additional waiting time experienced by passengers at bus stops, compared to the expected waiting time if the buses arrived at regular intervals. The closer EWT value is to zero, the stricter the en-route bus regularity is. On the other hand, higher EWT value implies en-route buses are bunching.

The Schedule Optimization System provides the bus schedules per route that hit the lowest EWT, optimizing the bus operator's corporate asset, such as available fleets and bus drivers, while considering the restriction instances such as bus travel time between stops and between depots as well as labor factors such as shirt schedules, break time, and maximum working hours and such conditions
Conceptual illustration of Schedule Optimization System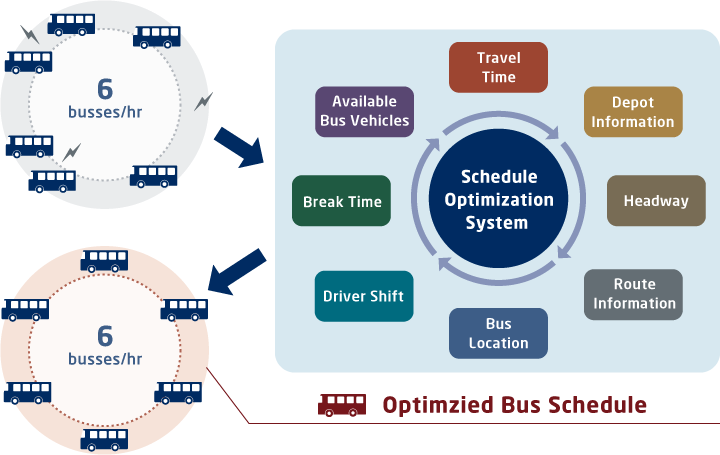 Analytics Engine
The system offers the optimzied bus schedule, leveraged by analytics engine.
Considertation of Restrictions Each bus operators have different restriction parameters. The system is compatible to accept various restrictions that differ by each operator to help improve the bus reliability.
Bus operators can derive optimal asset allocations.
Running buses at regular intervals helps alleviate waiting time and congested bus conditions.