Displaying present location in the site.
Network Monitoring Service
NEC is one of the only voice and data solutions providers to operate its own world class Network Operations Center. The NOC is equipped with the industry's best practice tools, business process and technical skills to provide NEC customers with the following: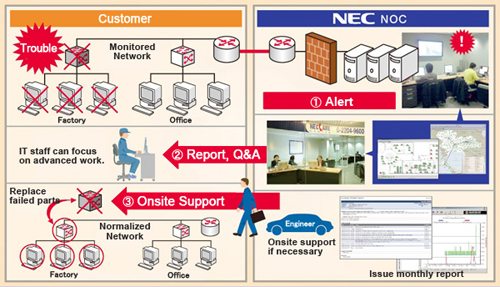 Network Monitoring Service
The Network Operations Center specializes in providing network monitoring, management of Voice, Data and IP Telephony Networks, these services include:
Availability Management
Performance Management and Reporting
Change and Configuration Management
Incident Management
Managed Security Services
Internet Services Monitoring
Server Monitoring
Web Portal Access
Availability Management – Network Infrastructure
NEC's Engineers are certified in supporting network infrastructure devices including:
Routers
Ethernet Switches
Firewalls
VPN devices
Wireless LAN
Availability Monitoring – Internet Services
NEC's Internet Services Management System monitors the availability and response time of internet based services.
Services such as web (http) and secure web (https), mail, ftp, RAS and DNS
NEC's Performance Management system can be deployed to report on key performance metrics of a customer's LAN/WAN network.
Capabilities including utilization, availability and capacity planning data.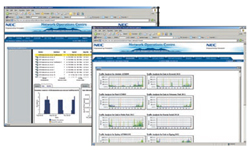 Change and Configuration Management
NEC's Premium NOC Management service provides customers with the necessary change and configuration management for their network requirements. This service includes regular backup and archive of device configurations. A number of configuration changes are included annually within each contract.

Fault Escalation Management
The NOC assesses all alarm and fault conditions. Statistics demonstrate that approximately 80 per cent of conditions can be resolved remotely.
The NOC will manage fault escalation to on site, level 2 or level 3 technical engineers as required or redirect the fault to the customer's own support team.
NEC's email and SMS gateway can provide external notification to your mobile IT staff should this be necessary.
Carrier Escalation Management
NEC Business Solutions has established back to back arrangements with most carriers and NEC's NOC can manage fault escalation through to resolutions on our customer's behalf.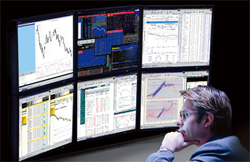 NEC's Service Information Portal provides NECare customers with a 'real time' view of their network.
Availability and performance data is accessible including historical performance and capacity planning reports.
Access to NECare online allows NEC customers to log, view and track incidents should the need arise.
Customer visibility of the NECare service provided via a web portal: