Displaying present location in the site.
Wide range of powerful Business Mobility handsets
All our DECT handsets offer excellent voice communication: crystal clear speech, loudspeaker and hands free support, seamless handover and roaming, high security with DECT authentication, and seamless integration with NEC communication servers.

Applications include central directory, presence, text and alarm messaging and location detection. The telephones give your employees flexible, easy and secure communications as they roam about your company's premises, while providing most of the features and functionality of a desktop phone, with mobile enhancements such as text messaging, alarming, programmable keys, and integration with third party applications.
The DECT handset G277 is an entry level professional mobile handset providing a range of mobile unified communication features, plug and play installation, charger compatibility and more for effective operation in various businesses.
• Entry-level IP DECT handset
• Appealing, lightweight and slim-line desige
• Central directory with presence indication
• Loudspeaker and hands-free mode, analog headset, & vibrator mode
• Bright 1.8-inch color display
• Micro-SD port for simple plug & play installation/replacement
• Single Line SIP support
• Integration on the NEC UNIVERGE® SV9000 Series and UNIVERGE 3C™ communications platforms
DECT handset G577 is a sophisticated mobile handset combining mobile unified communications with a range of alarming and messaging capabilities, to facilitate task management, staff/patient safety and rich messaging in various businesses, hospitality and healthcare.
• Drop-resistant design
• Dust and water spray resistant
• 2-inch hi-res display
• Large SOS key on top handset
• Text messaging features
• Bluetooth for headset connectivity
• Future support for localization services
• 4 function/line keys
• iSIP and Protims over IP support for the SMB products
The I766 DECT handset is a powerful communication tool and with its ruggedized design ideal for the most demanding environments such as in healthcare, manufacturing and industry.
• Intuitive user interface with color display and icon-based menus
• Environmental and temperature resistant
• Bluetooth connectivity
• Call control features for PBX integration
• Central directory, presence, messaging and alarming
• Personal safety with SOS alarming key
• Dual/rack chargers for additional battery charging
• DECT quality and security compliant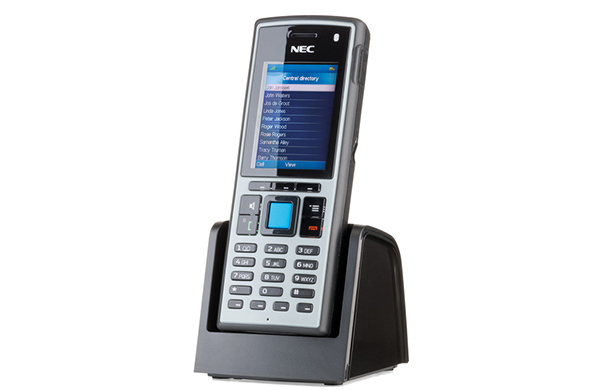 AP400 IP DECT Access Point
NEC's AP400 Series IP DECT Access point - design for CAT-iq - connects directly to existing on-site IP networks for on-premises wireless telephony.
• DECT Access Points designed for CAT-iq
• Connect directly to IP network
• Crystal clear speech and seamless handover
• Full security and speech encryption
• Scalable up to 4000 APs in one network
• High availability by redundancy and virtualization options
• Open SIP interface to various PBX platforms
• Mountable on wall and ceiling